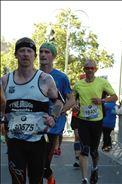 I decided to run the Berlin Marathon back in May this year. I had run the Sunderland Marathon and suffered, suffered badly. So, in an attempt to bury my demons I signed up for Berlin in the hope that I could run another marathon and not suffer the pain and humiliation I did at Sunderland.
Following Sunderland I could not run properly for around five weeks and so training for Berlin was slow and did not provide me with as much time as I would have liked. When I did begin to run again I was amazed at how much fitness I had lost and that my long run could not go beyond 13 miles (I had to walk!) I was due to run the Hadrian Wall Ultra, around 70 miles in two days. The week before the Hadrian Wall run I could not run more than 15 miles. I knew then that it would be foolish to attempt it and so I withdrew.
Things did not really improve much. It took around a further six weeks to regain my speed but even then I was still around 30 seconds short of my previous times for the 5k distance. I don't think I ever really regained my endurance. My last five long runs consisted of a 17k, an 18k (pulled up and walked) another 18k, and two 20 miles. I did not feel in great shape! In addition, I had secured a project in Manchester which meant I could not attend club runs, the gym or run as regularly as I would have liked. My hamstring had also begun to ache, which was a new one!  My final long run was 20 miles on a pancake flat route and I was completely drained when I finished it. However, I did run The Great North Run (a half marathon) successfully. The problem was that I ran it a little quicker than I intended (1:42 if you deduct the time I waited for my friend who had started in a pen behind me) and I was definitely still feeling the effects on marathon day.
So, not feeling very confident, and actually wondering if I would finish, Mrs C and I flew to Berlin.
The organisers had made registration at the expo compulsory. There was no other way to obtain my running number and timing chip, and so once we had checked in we took a taxi straight out to the old airport where the expo was located. The expo itself was sprawling and packed full of every type of running product you could think of, and maybe a few you couldn't.
To register, you had to walk through three airport hangars, passing all the stalls as you did so. Blatant commercialism, and not fair on runners who had travelled a long way and who had to run 26.2 miles the next day. Just about every major running product was on sale: there were dozens and dozens of stalls and some had extensive product lines on show. I only made one purchase, some clip on bib studs which mean you don't need safety pins for your race number. My pack of six studs had four with BMW logos and two with Union Jacks on them. A nice souvenir which I used for the race and they actually worked!
Number and chip obtained we headed back for lots of spaghetti.  The hotel had provided a special runners' dinner with the restaurant resembling an Alcoholics Anonymous meeting – lots of water on the tables but not a beer in sight!
I had selected my running kit the night before the race, my Garmin watch was charged, and the cadence foot pod was attached as was the BMW timing chip I had been given at the expo. I rose early to take advantage of the early runners' breakfast that the hotel had laid on (from 5am) and by 7am was ready to go. The race started at 8:45 and the start line was a little over two miles away. I mulled it over and decided to walk to the start and use it as a warm up. Once I set off I began to doubt the wisdom of this as everyone else seemed to be taking the metro or bus. I also realised I had brought no money with me. A schoolboy error! I was not even sure I could find the start, as I had expected just to follow the crowd. I need not have worried, I soon picked up crowds of runners and just tagged along. It was quite a long walk though, and I did worry that if I suffered in the marathon as much as I did in my last attempt it would be a very long and painful walk back to the hotel.
It was a little confusing at the start reception area with 40,000 runners milling around, but I found my bag drop area, left my bag and headed off for a pre run wee. Statistic alert; I had two wees before the start and four during the race, none of them however, were á la Radcliffe!
Once in my starting pen I began to feel part of it all. I had brought a T shirt to wear over the top of my vest to keep me warm, but also grabbed one of the plastic body covers Adidas had supplied to keep out the cold. It was not freezing but it was not warm in the shade.
There was a real party atmosphere in the pens. I had completed the Great North Run two weeks previously and the atmosphere here was much better. The start of the race began pretty much on time as far as I could tell and there were three waves of staggered starts. With a charity place, I was in wave three in the final pen. This was going to prove crucial in both a positive and a negative way.
I crossed the start line 27 minutes after the start and broke into a slow(ish) jog. It was here that the scale of the Berlin marathon becomes apparent. Yes, there were 50,000 at the GNR, but somehow the 40,000 running running the longer distance at Berlin is a little special. All sizes and shapes of people were running. They came from all over the world, though I must say I spotted more "Danmark" running shirts than any other.
After about a mile it became apparent that the race was going to be hard work and so it proved. The combination of starting at the back of the race and over enthusiastic runners starting further up the starting line than they should, meant it was at times impossible to make progress at my planned pace. I tried to for about eight miles but gave up and decided to jog along as best I could and to simply enjoy the race – that is if you can enjoy running 26.2 miles. (My Garmin had it at 26.4 which is unusual because normally it is spot on.)
The Berlin Marathon is a very, very flat marathon. I would not have believed it, but apart from a small hill over a bridge, I cannot remember any inclines at all. That is the good news. The bad news is that while it is a fast course it is a slow run if you become caught up in the lower order runners. I am not particularly fast, anywhere from 3:40 – 4hrs but because of the sheer numbers and the narrow roads, passing people just wears you out. Passing slower runners, diving for gaps and zig zagging across the road really does sap your energy and when running a marathon, you need a lot of energy just to finish. Like I say, after mile 8, I decided not to try. When I say narrow, I should say a mixture of narrow roads and wide roads. It is probably actually about 60/40 in favour of wide streets, but you only remember the narrow ones! At around mile 15 the organisers also placed a water station on a very narrow road – the result was carnage and one guy hit the ground very hard. He was one of three who I saw take a tumble but I observed numerous near misses and lots of people were complaining afterwards of bruising from elbows in the general melee. When I was walking back to the hotel after the race I started chatting to a runner from Mexico. He had travelled over as one of 23 runners, plus families. His race had ended at mile 13. He finished the race but it was at mile 13 that the congestion had made him decide to stop racing and just run the course. Like me, he had simply found it impossible to maintain his normal pace running in such narrow streets. This is a real shame and is something the organisers really need to think about. Obviously the organisers want as many people as possible to have an opportunity to run the course, but this should be balanced with runner safety and the need to allow runners to have room to run at a pace they are capable of.
The water stations were described as being 100 metres long. Perhaps they were, but often they were on only one side and positioned on a narrow road. Most runners went diving in as soon as they saw the signs and this created some serious bottlenecks which were quite dangerous at times. The other odd thing was that the water was in plastic cups. This did work well once you remembered not to grab the cup too hard. In addition, it is a surreal experience hearing 40,000 plastic cups being trampled underfoot. The noise is almost impossible to describe but it was very loud and quite amusing.
My race went well. I don't remember anything in particular about the sights on the course, but I never do. I am far too busy pacing myself, staying out of the path of other runners and generally thinking about running to notice any landmarks. When browsing running events on the web there are often detailed descriptions of the course and various landmarks. In all the runs I have ever done I have never really remembered much, all I think of when running, is, well, running!
I do remember that the course was obscenely flat and very well supported. The inhabitants of Berlin turned out in force and really supported each and every runner. The water stations were frequent, surprisingly so, with one station providing Powerade drinks and another bananas. I took full advantage.
There were numerous musical bands along the route and noisy supporters with air horns and drums. In fact, the only bad thing about the spectators was that many of them entered the course to run alongside friends and family for a short time. In a race this cramped for space, they attracted some harsh looks and comments.
I took my time and concentrated on keeping out of trouble, running wide on the corners and bends and all the time looking ahead for potential problems. I may have missed them, starting from the back of the race as I did, but I did not see very many runners in fancy dress. I did see three guys pulling carts with people in them. The cart handles were attached to each runner's waist and they did seem to be making good progress when I passed them around mile 17 or so. However, I bet they added to the carnage at the water stations and on narrow parts of the course.
My wife had arranged to be at around mile 22 to cheer me on. We had selected the area as it was close to the hotel and so she did not have far to walk. Here is a tip; if, like me, you are a slow runner, there is little point in having your family come up to the start point with you (at any major race). They will not be allowed into the start area and the chances of seeing you amongst the hordes of runners will be slim. It is also a long time for them to wait. It is even worse if the start and finish are a long way apart. Much better to be met at the finish or have some support when you think you may be flagging slightly. It is amazing how a friendly face can lift the spirits.
I texted my wife at mile 20 and then kept my eyes peeled! I guessed that she would be on the hotel side of the race and so edged over to that side all the time scanning the crowd. Suddenly, there she was, I smiled and waved and then was gone……..but it had helped.
The last four miles or so was harder. I did not "hit the wall", in fact I felt pretty good. However, 26 miles is, well, 26 miles, and is a long way to run. By the time the last mile marker showed up I was ready for it. It seemed a long way off and the finish line just wouldn't come. When it did, I crossed the line, picked up my medal and waited for the waves of nausea and tiredness to hit me like it had at Sunderland. I steeled myself and made sure I knew where the first aid tent was. It never happened. I felt great. I am not saying I could have run much further but yes, I had fuel in the tank.
I set off to find my bag. I was elated. Not only was I not too tired but, as far as I could tell, I was in pretty good shape with no real aches or pains. Three days later and it is still the case.
My finishing time was 3:58 and my pace did not really alter much throughout the whole of the race. I think that the slightly slower pace, taking on much more water than normal and fuelling up beforehand and en route really helped.
My next marathon is in the Himalayas in October on day three of the 100 mile stage race. It will be very different as there will be no crowds and it is all downhill.
If I can obtain a better start position I may return to Berlin next year but I am also considering Paris or Tokyo.
Overall, I would recommend running the Berlin Marathon. Just make sure you have plenty of practice running in crowds!
Stats
Finish time: 3:58:24 (I over-trained by 1 minute 30 seconds)
Moving time: 3:53:25
Average pace: 9:01 minutes per mile
Average moving pace: 8:49 minutes per mile
Half way time: 1:57:24
Fastest mile: 8:20 – mile 3
Slowest mile: 10:37 – mile 12 (I queued up for the Portaloo)
Last full mile time: 9:43
Average cadence 90 strides per minute
Position in race: 15,311 (this means I must have passed around 20,000 runners)
Pasta meals on Friday night, Saturday lunch and Saturday evening
One protein bar immediately before the race
Six SIS energy gels en route
One Powerade sachet and half a banana
Regular cups of water
Six wees
No injuries
3,030 calories burnt (according to my Garmin watch)
Kit:
Adidas adiStAR Salvation 3 M training shoe (overpronater)
Sub Sports RX Men's Graduated Compression Baselayer Leggings
Sub Sports RX Men's Graduated Compression Baselayer Calf Guards
Tyne Bridge Harriers Running vest
Science in Sport Go Gel Marathon Belt