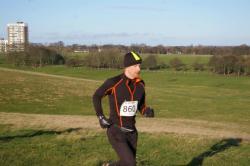 It seemed like a good idea at the time. I had run three Park Runs at Exhibition Park in Newcastle (Park Runs are 5k and held all over the country at 9 on a Saturday morning) and my New Year's resolution is to "get back into" running and to run a marathon. What better way to start my training than with a 10k on New Year's Day?
I started running again in August 2012 with a weekly mileage of around 20 miles or so, and my longest run had been 11 ½ miles. How hard could it be? I mean, it is only twice around the Park Run route, right? Wrong: but more of that later.
Mrs Writer is not really into running, so I popped down to Exhibition Park alone (but I took her car even though it is only a mile and a half away Mwhhhaaaaa)
Car parked and round to the Café. I could see a large group of runners milling and queuing. I quickly obtained my number as I had pre-registered, pinned it onto my top and was ready to go. It was around 11:35 and it was cold. Luckily I had taken the dogs for a walk earlier and had been chatting to a brass monkey so I knew it was going to be cold and had dressed accordingly. Two layers top and bottom, and a hat and gloves Mrs Writer had bought me for Christmas.
All good up to now. My initial high spirits started to reduce a little, though, as I looked at the runners milling around. It seemed that most of the runners were "proper" runners, as they were wearing running vests with different running club names emblazoned across them. Oh dear, I could be coming last in this one.
Ha, but no. There were a couple of fat lads with no running vests as well as a number of oldies (I am 48) – I should be able to beat most of them, I thought, especially the particularly portly gentleman – who, by the way, passed me at Mile 2. I felt much better: although I would not shine, I would not finish last.
But then the world fell out of my bottom. I overheard, and subsequently joined, a conversation about the course. It transpired that the run was not two laps of the Park Run, as I foolishly thought, but was run mainly on grass and had at least two humungous hills to navigate. Naw, that cannot be right. Can it?
Spirits lowered again, I headed for the start at around 11:50.
A quick warm up, an announcement from the organisers and we were off.
It went really well, for the first couple of hundred yards, but then the course went from gravel path to mud, not super deep mud, but about ankle deep. Bugger, I should have worn the new-fangled Gortex trainers I had bought for just such a time. No matter: how bad can it be? I navigated the first swamp as two lads went in the other direction. A young woman asked her companion, "Have they dropped out already"? He responded, "No, they're going back to get their trainers out of the mud"!
I ran through the bog, rounded the corner and glanced ahead. How on earth had those runners managed to get so far ahead of me? We were less than half a mile in and they were dots on the landscape.
I consoled myself with the knowledge that I was probably at least 70 years older them and that they had all taken performance enhancing substances like Jaffa Cake juice. All went well for the next mile or so, a slight incline and then a fairly steep, long hill but nothing unmanageable, although it was slippy. There then followed a boggy patch with a small decline followed by the biggest hill in the world! No, really, it was huge and it was covered in mud. However, I don't mind hills, and so managed to pass quite a few people on the way up. The major problem with hills of course is that there is a downhill too. Descending the other side of the hill almost put my knees through my shoulder blades and my eyes were rattling in my sockets. I set off down the hill and found that the gradient and the mud meant I could not stop. Worse was to come: there was some kind of 12th century moat of mud waiting for me at the bottom and then … .another hill. OK, so it was not as bad a hill, but it was bad enough. Another quick descent through mud and water and back onto the flat and life didn't seem too bad after all. Then Lap 2.
This went much better and I managed to pass a number of people on the way round. By the time I reached Everest for the second time I was ready for it – not! I couldn't run all the way up this time. Tiredness, and the muddy footmarks of a couple of hundred runners, had made it into some kind of runners' death trap to be attacked by only complete nutcases or people from South of Scotch Corner. Up and at 'em and I was over it, down the other side and over the moat that was only slightly smaller than Beecher's Brook but had more bodies in it, and up the other side.
Then, B*******, there was a photographer at the top, worse he was snapping everyone.  I am not the most photogenic person at the best of times but right then I had mucous fluid coming from my nostrils, froth foaming from my mouth and I was squinting because of the sweat running down my forehead and the sun in my eyes. A quick wipe with my new Christmas gloves had me looking a million dollars (green and wrinkly). I picked up my pace, straightened my back and ran with perfect form, he took the photo and I went back to foaming, slavering and gasping for breath with the posture of a 90-year-old exactly half a second later. Then it was down the hill and onto the path. I did actually manage to stretch out here: it was a surface I was used to, plus I could see the finish line, and so I sprinted comfortably to the end.
A quick glance at my watch showed me that I had covered the ground really well and it was a new PB. (It transpired later that the course was not 10k at all but was almost a mile shorter!)
So, in summary, it was a hard, difficult run for someone of my limited running experience, and hard because I was expecting a stroll in the park, literally. But, I did enjoy it and I will be much better prepared next time.
Post race: I returned to the car and stripped off my mud-soaked running gear, drove home in my bare feet, had a shower, ate my New Year's Day dinner and … went to  bed for an hour. It must have been the fresh air!y
Keep an eye out for my next blog. Follow us on Twitter for the latest updates using #writerontherun
Sponsor Neil via our JustGiving Page