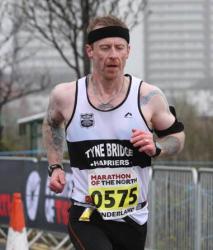 The run up to the marathon did not go as well as I had hoped.  My last long run had felt strong and easy. However, two days later I had a sore throat and a day after that I was coughing with a minor chest infection. This completely spoilt the first week of my three week taper, as I could not run and had to cancel all my gym sessions. At the beginning of week two of the taper, the sore throat had gone but I had a lingering cough. I ran 15 miles as planned and, at the end of it, could not run another step. Disaster! The ITB and glute problem that had prevented me from running for 12 years was back. I was distraught: a lingering cough and sore glutes with around ten days to go. I booked into Physio+ on Newton Road and the work began.
The cough cleared up by the start of the marathon, but in the seven days leading up to it, I ran only once and had three sports massages to try and shift the pain in my glutes. I was taking Ibuprofen, codeine, having hot baths and wearing a Deep Heat patch continuously. In addition, I was going to the gym twice a day to stretch, stretch, STRETCH. By Saturday, although much better it had not gone away. I had to decide what to do.
I decided to run. I had raised over £3,000 for Sense and so it was important I ran the course. If I couldn't run, then I could at least walk.
The strategy would be to run at marathon pace for as far as I could and "see what happened." I would then walk/run the rest of the way.
Race day arrived and I was out of bed at 5:30 sharp and had a hot bath to try and ease the pain. It felt a little better and I was confident that I could at least run half of it. So, I stuck a Deep Heat patch on my glute, dressed and headed out of the door. I was nervous. If the injury blew up early it could be a very, very long walk.
I met the Tyne Bridge Harrier crew on the Metro, arrived at the stadium and in no time at all was on the start line. It was cold, it was windy and I was nervous. I had hooked up with Paul, who is to be my summer training partner and running buddy for the Himalayas in November, and we chatted about the sanity of running 100 miles in five days "at our age." It helped pass the time. There was a minute's silence to remember and support the people affected by the Boston Marathon and then we were off!
The race began. As is normal at these events, the first mile was quite busy and some jostling and positioning was going on. The first mile was slow at 8:38 (I was aiming for 8) but that was not necessarily a bad thing. Miles two to three I discarded the cheap fleece I had bought to keep me warm and tried to get my Ipod to work, but couldn't manage the fiddly buttons and gave up. I ran the rest of the race with no music and learned a valuable lesson.
It has to be said the course was not particularly inspiring. Running through uniform grey streets and along main carriageways on an overcast Sunday morning is not really uplifting. Passing bemused locals was mildly amusing but running in relatively high winds on a Sunday morning is not my ideal pastime. The good points were that it was very well organised, there were lots of switch backs where you passed runners coming in the opposite direction and Tyne Bridge Harriers were well represented. This meant, as a slower runner, you got a friendly wave of encouragement from your club mates as they hared off in the opposite direction. The one thing I should mention is the water stations. They were regularly placed and well stocked, but the bottles took a little getting used to. In fact, it is the first time that I had ever wished water bottles came with opening instructions. They were plastic bags with a tab on. (Think of the bags they used to give you at the fair ground when you won a goldfish only bottle shaped.) When you have not seen one of these before, have failing eyesight and are running, it is rather difficult to figure out how to open the little blighters. The first one nearly choked me. When I did figure out there was a tear off strip at the top, I squeezed too hard and deposited nearly the whole lot down my throat at once! Much coughing and swearing followed.
The first half passed off fairly uneventfully. I hit my mile per minute target pretty much every mile and went through the half-way point in around 1.46. Perfect up to now. I ran miles 12-13 with a fellow club runner who was running the half and we separated at the stadium, she to run to the finish line and I to run another 13 miles. The important thing was that although my glutes were tightening, and shortening my stride a little, they were not aching and I was running ok.
It was not to last. The aching increased and so did the tightness. At around 14 ½ miles I decided to take some codeine and wash it down with the last of my carbohydrate drink. It also meant I could discard the bottle.
Around a quarter of a mile later the mixture of codeine and carb drink was fizzing like a chemistry experiment and I had to stop running to vomit. Luckily, I was down at the sea front and the runners had thinned out, so no one noticed.
Then it was back out for a mile along the sea front and this is where the problems began in earnest. The wind had been a problem a couple of times but nothing major. However, coming back along the sea front was tough. My speed dropped to around 10 ½ minutes per mile and at the end of the sea front, as soon as the wind stopped, there was a steep hill. I ran the first half of the hill, rounded the corner and saw the full extent of it, and decided to walk. This was at mile 18, and I knew that any possibility of achieving a good performance was lost right there on the bleak windswept hill. My hopes were blown away with the betting slips and litter on that hill. (It was Sunderland after all.) I was a spent force. The Garmin data from my foot pod told me I walked 2/10ths of a mile. It felt much more. I ran on for a little over half a mile and had to walk again. I was also starting to develop a "flickering" in my peripheral vision. I suffer from vertigo, brought on by movement. It was all I needed. Hit the deck with a vertigo attack at 20 miles in a marathon and I will have the bloody crash team around me or be arrested for being drunk. I ran on and a fellow club runner caught me up and passed me on another bloody hill. Whatever little joke the organisers were having by making the second half of the marathon harder than the first had worn very thin by now. I stopped twice more until 21 ½ miles and then managed to run to the finish. I caught up with my fellow club runner as he pulled over to the side of the road, a rough shout from me and he was up and running at my side. We ran together for perhaps a mile, exchanging only a few words as we were both very tired, before he gradually pulled away and disappeared into the distance. By now I was running an average of 10 ½ minute miles and was very tired.
Looking back, I am not certain how I managed to keep going.  I was starting to become disorientated and felt awful and the final three miles were a complete blur. I felt sick, I was hurting and it started to rain. I sweat so much that I have to wear a head band or am blinded with the salt after around five miles. The rain filled up the head band, and pushed the sweat into my eyes. It really stung and combined with the pain from my left leg and both glutes I honestly felt like crying.
How on earth I had ended up in this state? I had no idea. I had followed a plan to the letter, running up to 22 miles in my long run, my speed sessions had gone well at the club and I had run at marathon pace for up to 12 miles. I had trained in the gym for almost a year and was fitter, lighter and stronger than I had ever been in my life. Yet, I was broken. Not by an Ultra Marathon, not by torture in a POW camp, not by some super human feat of endurance but by a mere city marathon in cool conditions and on good ground. I felt so disappointed with myself, I cannot even begin to describe it. My wife was waiting in the cold at the finish line, as were my daughter and grand-daughter who had travelled on public transport for over an hour to support me, (bloody hell she had even made a banner), and I was going to finish the race like a bag of washing in a colostomy bag!
I just kept going. Some club members were in the finishing straight and cheered me on. Although I know who a couple of them were, I am not 100% certain about them all as I was so tired I couldn't think (or see) straight. But thanks, it helped me enough to run alongside the barriers (give a mock bow) and run towards the finish line. Around 30 yards or so before the finish my family were waiting. I waved and ran on. They didn't manage a photo. I had pre-loaded texts the night before but was so tired that I could not send them so they were not expecting me.
I crossed the line in 3 hours 51 minutes and 40 seconds. I was so dizzy and felt so nauseous that I hung around the medical tent trying to catch my breath and clear my head. After a couple of minutes my family arrived. It was something of a shock as I did not realise they had access to behind the finish line. I did not want to them to be worried so I tried to be upbeat and hide the terrible state I was in. I managed until I tried to walk.
I have not cut a long story short because I think it is important to be honest and admit how tough it was. It is now three days later and I am still tired. I have a big toe nail that will fall off in a couple of days and am limping very heavily on my left foot. It was so bad on Monday and Tuesday that I had to lift the leg with my hands as it could bear very little weight.
With 20/20 hindsight I know what went wrong and why, but that can wait for another time.
My tip for first time marathoners is: do the training and respect the distance but be realistic with what you can achieve.
Every morning in Africa, a gazelle wakes up.
It knows it must outrun the fastest lion or it will be killed.
Every morning in Africa, a lion wakes up.
It knows that it must run faster than the slowest gazelle, or it will starve.
It doesn't matter whether you're a lion or a gazelle
when the sun comes up you'd better be running.
(But, unless you're a runner, you won't understand.)
Anon