Article Details
Published Date:
21-06-2023
Category:
Tender Writing & Bid Management
Bid and tender writing requires a broad scope of knowledge, not only on the working practices of a range of industries and sectors, but of wider legislative changes which are relevant to public procurement. In addition to demonstrating legal compliance, referencing relevant legislation in quality responses demonstrates a wider awareness of your organisation's duties in delivering works and services to the public sector and its residents, service users and members of the public.
Our team of bid writers receive regular updates from Technical Director Matthew Walker following changes to policy or legislation – such as a new Procurement Policy Note or updates to HSE guidance – and how it will impact tendering and drafting of quality responses moving forward. Through active horizon scanning exercises and subsequent team briefings on how to ensure responses align with evolving legislation, we continue to effectively deliver the highest possible quality tender responses on behalf of our clients.
Here are just a few amendments to legislation relevant to bidding practices, and how you can incorporate them into your bid and tender responses.
Euro 7 emissions standards
Scheduled for rollout in July 2025, all major vehicle manufacturers will be required to comply with Euro 7 emissions standards for petrol-powered and hybrid vehicles. Currently, emissions standards can impact where you deliver works/services – for example, London's Ultra Low Emission Zone (illustrated below) imposes a daily charge for petrol-powered vehicles not meeting Euro 4 standards, and diesel-powered vehicles failing to align with Euro 6 emissions.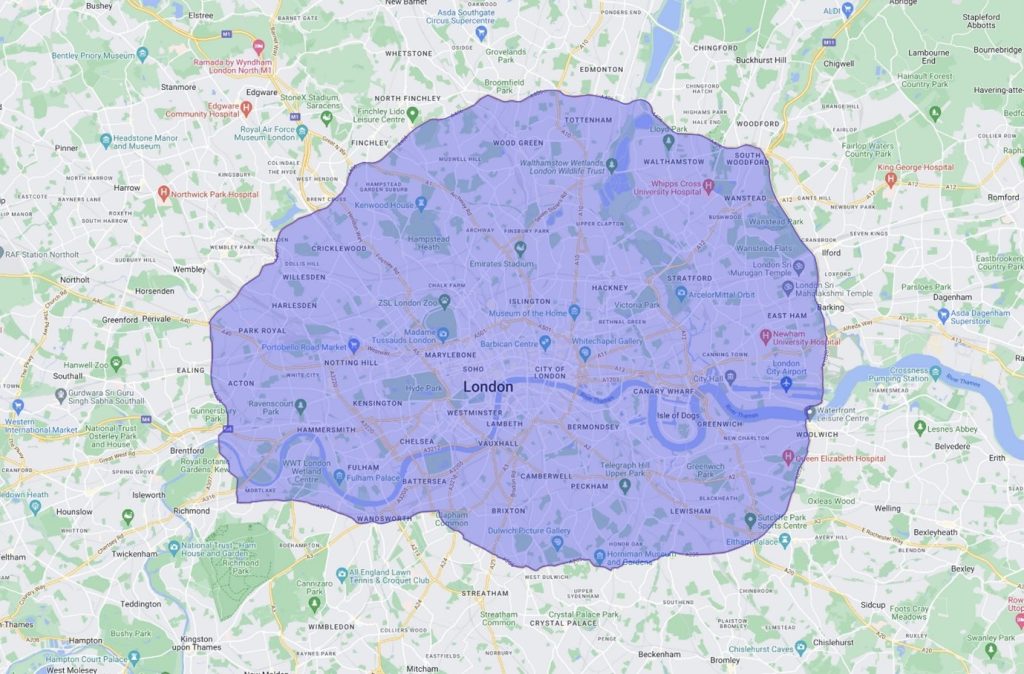 The table below shows the evolution of emissions benchmarks within Euro standards. Since the implementation of Euro standards in 1992, carbon monoxide (CO) emissions have been reduced to less than 20% of initial standards, and nitrogen oxide (NO) emissions for petrol-powered vehicles to less than 10% of their former output, thereby enhancing air quality and driving improvements to public health.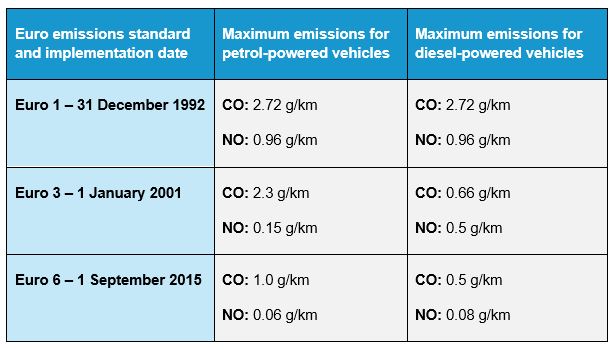 Although emissions standards for Euro 7 are still being finalised by central government's 'Road to Zero' strategy, other standards have already been agreed. For instance, the period for checking emissions compliance for all Euro 7 vehicles has doubled to 10 years and 200,000 km, more than double the Euro 6 period of 5 years and 100,000 km. All Euro 7‑compliant vehicles will also be fitted with electronic sensors, to proactively detect engine faults which would generate higher emissions.
Relevance to bid writing
Referencing alignment with Euro 7 standards will be highly beneficial when responding to tender questions around environmental topics or reducing carbon emissions. As the majority of tender responses have a future focus (e.g. 'how will you support the council's targets of reducing carbon emissions over the contract term?'), incorporating a reference to upcoming changes assures evaluators that you understand and are committed to carbon reduction commitments, thereby enhancing persuasiveness. For example:
'… In line with the incoming Euro 7 emissions standards in 2025, we will transition our remaining petrol-powered vehicle fleet to Euro 7 complaint vehicles (delivering a further XX% reduction in carbon oxide and nitrous oxide emissions compared to Euro 6) prior to phasing in a 100% electric fleet by 2028. This will effectively support the council's target of Net Zero emissions by 2030.'
Evidencing future alignment with Euro 7 emissions standards can also be a beneficial supporting point for other responses, such as delivering works/services across a large geographic area.
Building Safety Act 2022
Drafted partly as a response to the Grenfell Tower Inquiry, the Building Safety Act 2022 has created new obligations for the design, construction and ongoing management of high-risk residential buildings (HRRBs), defined as new or existing buildings over 18 m in height, seven or more storeys and two or more residential units. The HSE will act as the Building Safety Regulator for all works subject to regulations, helping to usher in 'the biggest changes to building safety legislation for nearly 40 years' according to Building Safety and Fire Minister Lord Greenhalgh. All existing buildings must comply with the Act by 1 October 2023, including the appointment of a duty holder known as the 'Principal Accountable Person.'
The main goals of the Act include:
Clarifying who has responsibility for the fire and building safety of asset by identifying the Principal Accountable Person (e.g. building owner, landlord or property management company)
Creating and maintaining a 'golden thread' of site-specific information and a digital audit trail to track the entire lifecycle of an HRRB, facilitating access to information for principal designers and contractors, in addition to enhancing health and safety for residents
Enacting a formal system for reporting certain incidents and ensuring they are made available to HSE for any audits of proper working procedures.
From April 2024, HSE will commence assessment and issuing Building Assessment Certificates, with noncompliance resulting in fines and potential personal liability for Principal Accountable Persons.
Relevance to bid writing
The Building Safety Act will be relevant to any construction contractor delivering works in high-rise apartment blocks, student accommodation and hospitals/care homes which meet the definition of an HRRB. Accordingly, referencing and demonstrating understanding of the Act will be a crucial aspect of any mobilisation or health and safety responses, with the following excerpts serving as an example for both:
'… Following the installation of fire doors in all relevant assets, all relevant documentation will be provided digitally to the council, maintaining compliance with the Building Safety Act 2022, preserving the 'golden thread' of building-specific information and enhancing resident safety.'
Terrorism (Protection of premises) draft Bill
Currently in draft phase, new legislation (previously known as The Protect Duty or 'Martyn's Law') will require public venues, large organisations and public spaces to document and implement preventative action plans against terror attacks. The Bill will apply to all publicly accessible locations with a capacity of more than 100 people, with requirements including the following:
Completing a preparedness plan for a terror attack or threat of attack, with site-specific contingency (such as dedicated escape routes and muster points)
Delivering free training to on-site staff on how to respond to an incident occurring inside, outside or near to buildings/sites, with regular refresher training provided thereafter
Cascading updated information to all directly employed staff and subcontractors through awareness campaigns and toolbox talks.
Locations with a capacity greater than 800 people will be required to produce a risk assessment and security plan which is 'reasonably practicable' and proportionate to the level of potential threats.
Relevance to bid writing
Although a draft version of the Bill was released by the Home Office in May 2023, it is still not scheduled for debate within the House of Commons. However, this does not preclude mentioning it as a forward focus within responses, particularly for tender submissions which are at heightened risk of a terror attack. Referencing the Terrorism (Protection of premises) draft bill would be particularly helpful in addressing site-specific safety concerns.
'… In anticipation of the requirements of Martyn's Law and the Terrorism (Protection of premises) bill, we will also produce a terror preparedness plan when drafting site-specific risk assessments and control measures, complete with exit routes and a dedicated muster point.'
We also envision the Bill's eventual passage being particularly relevant for bidder organisations tendering for a security contract or framework, as the definition of 'public spaces' and 'public venues' is quite broad.
Procurement Bill
In addition to the above legislation, we are also keeping a watchful eye on the Procurement Bill, which had its third reading in the House of Commons on 14 June. Expected to come into force in October 2024, the Bill will introduce wide-ranging measures which will change all levels of procurement, with principle focuses including (but not limited to) the following:
Supporting 'Levelling Up' objectives through procurement
Increasing focus on integrating SMEs into public sector supply chains
Excluding suppliers who are underperforming against contract requirements.
As part of our position as industry thought leaders within bid and tender writing, Executive Compass will be releasing our opinions on how the Procurement Bill will impact bids and tenders across all industries following consideration of amendments and royal assent in the coming weeks.
Knowledge of legislation which is relevant to quality responses is supported by our 14 years' industry experience, direct involvement in over 7,000 competitive tender exercises and a fully auditable 85% success rate. To learn more about how our various bid and management services can support you with a successful submission, contact us today at 0800 612 5563 or via email info@executivecompass.co.uk.
Back to 'Blogs'
Get In Touch
Call us now to speak to a member of our Bid Team:
0800 612 5563
Contact Us