Article Details
Published Date:
4-10-2016
Author:
Executive Compass
Category:
Tender Writing & Bid Management
Contract examples and requests for case studies are two subjects that appear in most PQQ and ITT documents. Neither usually causes much of a stir. In fact, the writing of responses to these items is often parked in a distant location by inexperienced bidders who only realise their mistake when the deadline is looming.
The importance of contract examples in a tender
Previous bid writing experience and relevant examples are usually a significant part of any PQQ or ITT, and can often be the difference between success and failure, with up to 40% of weighting applied to this area, as seen in a number of recent tender submissions: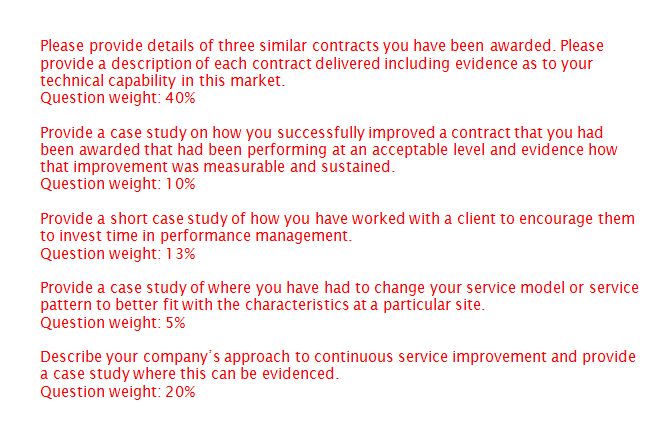 The ability to provide a well written and relevant contract example (or even better two or three, all relevant to the tender) is therefore crucial to demonstrate your capability and emphasise your organisation's credibility.
Case studies tell a story, illustrating how your business delivers its service, and the way in which you interact with customers to provide them with benefits. Describing the routes and paths your business has journeyed can bring your product to life and activate the interest of the reader. Purchasing decisions are influenced more by confidence gained in how a product or service has been implemented than by descriptions of the potential benefits that might be derived. A good case study will therefore demonstrate how your service is delivered and the success it brings to customers.
Don't be afraid to show off
Tragically, many good businesses fail, often abysmally, to communicate the stories of their success, even when presented with a direct and cordial invitation to talk about themselves in answer to a PQQ or ITT question.
In many cases, there is an awkward reluctance to talk about impressive aspects of their work. Service provisions are taken for granted by those delivering them, when they should be proudly boasting of their achievements. It is often wrongly assumed that other people already know what your business does, and don't need it spelling out to them; that the benefits of your specialised approach are clearly evident and therefore don't need highlighting, however this is not the case.
We are highly skilled at using probing questioning techniques during individual interviews to efficiently draw out all relevant and important information, enabling your business to shine. Our expert bid writers clearly cannot fabricate case studies or invent contract examples, and to be clear, we do not offer an a la carte menu of creatively written prose from which you can make your selection, but what we can do is ensure that those areas of your business that make you stand out, and that highlight real achievement, are presented to the assessor in a persuasive, quality response.
To discuss how we can support your team with writing compelling case studies, or additional sections of a tender response, contact our bid team today.
Back to 'Blogs'
Get In Touch
Call us now to speak to a member of our Bid Team:
0800 612 5563
Contact Us