Article Details
Published Date:
23-11-2021
Category:
Tender Writing & Bid Management
The Crown Commercial Service (CCS) is an executive agency, sponsored by the Cabinet Office, and the largest public procurement organisation in the UK. CCS brings together public and third sector buyers with hundreds of suppliers in the UK.
Billions of pounds are spent each year through CCS framework agreements. Their commercial agreements advertise a wide range of goods and services, including facilities management, construction services, temporary staff, language services, contact centres and digital specialists. As such, the frameworks tend to be very popular for companies regularly bidding into the public sector, as they can be quite lucrative.
CCS procurement frameworks
CCS 'use competition among suppliers to increase quality and value'. Following the UK (previously, and still for all intent and purposes, the EU) procurement process, CCS issue a new contract to the market, and evaluate possible suppliers' bids on both price and quality elements to appoint 'winning' organisations to their frameworks. Any public sector buyer can register to then purchase services through the frameworks, based on their specific service requirements. For some contracts, the buyer may need to prepare a further competition tender to fairly select and award a contract to the right supplier.
This means for approved suppliers on CCS frameworks, there is access to a great deal of available work. Typically, the frameworks are split into lots, and into geographical regions, whereby suppliers can bid for the particular area most suitable to their business.
Currently, the Crown Commercial Service has 206 procurement frameworks (108 which are live and actively being used) – across a breadth of services. Most of the frameworks run for approximately 3 years, but this can vary depending on the contract and goods or services: some are for as little as 1 year.
A guide to bidding into CCS
As in all tender processes, each bid is unique. The product or service that CCS are procuring will ultimately determine the tender that they ask bidders to respond to, and the questions they need to ask your company. However, in our experience, there are a number of common topics, themes and trends across CCS tenders:
A focus on case study-style examples
The central government social value model applies, meaning there is a 10% minimum weighting to social value in all CCS tenders, so you can expect a question on this
Frameworks tend to be large and can incorporate quite diverse services 'under one roof', so questions will often need to be broader. For example, you will probably see questions on topics such as business continuity or project management, rather than something sector specific
There is usually a strong focus on relationship management and continual improvement processes
We tend to see quite restrictive character limits in CCS procurements (probably as a result of their frameworks being large, with potentially hundreds of bids to evaluate) – meaning bids need to be concise and focused
CCS often give very detailed response guidance, including question-specific guidance for bidders on key items to include in each response. Bidders should therefore make sure their responses address those specific points – this is particularly helpful as not all authorities do this!
Forthcoming agreements
One of the really positive aspects about CCS is that they have a very transparent procurement pipeline published on their website, which is extremely helpful for both buyers and suppliers in their planning process.
You can view dates of all existing framework agreements, the end dates, and when this will be going back out to the market. For example: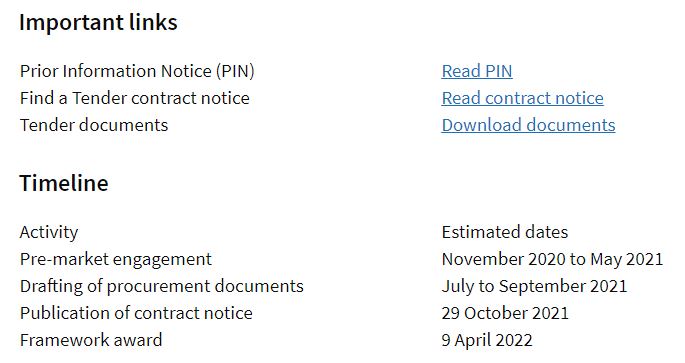 This makes it really easy for incumbent suppliers, or companies wishing to join a certain framework, to keep up to date with the forthcoming procurement. You can then ensure you are attending any pre-market engagement or supplier days in order to gain all the information possible.
How to bid?
Once a contract notice is released on Find a Tender Service (the UK wide procurement e-notification service), an interested bidder will need to register their interest in the contract to obtain the full tender pack. This will detail if CCS are using a one-, or two-stage process, and the tender document that you need to respond to. As we have stated above, we can hazard a guess at the types of topics involved, but it is important to wait until a tender is live to formally check exactly what is required of you and how you will be evaluated. It may seem counter intuitive, but while you can prepare when it comes to bidding, it is probably best not to start writing any responses until you see the final tender documentation.
Executive Compass specialise in tender writing support for frameworks and contracts in the public sector. Our team can support you to secure a place on the all-important CCS frameworks to access more business for your company.
Contact us today to discuss how we can help.
Back to 'Blogs'
Get In Touch
Call us now to speak to a member of our Bid Team:
0800 612 5563
Contact Us