Article Details
Published Date:
21-12-2016
Author:
Executive Compass
Category:
Tender Writing & Bid Management
2016 has been an exciting year for the Executive Compass team. We have provided a short recap of our year and an insight into what our team has been up to.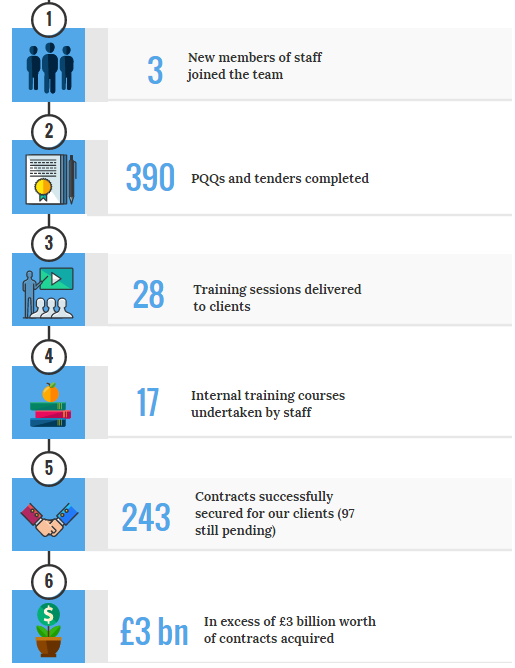 Elliott:
Early in the year, I became a BSI-certified ISO 9001:2015 lead auditor, which has been put to use on quality assurance responses across a range of sectors. One notable project in the past year has been working with a client based in Dubai for a facilities management contract for the MOD based in the Middle East. The project was close to home for me, as I spent much of my childhood in Saudi Arabia. Outside of work, I have maintained and improved my clay pigeon shooting since the last blog, and am now hitting an average of 75% of targets. I have also renewed my interest in judo, and am hoping to achieve my second-degree black belt in the New Year — fingers crossed!
Neil:
This year, along with the rest of the team, I have completed two BSI courses and am now an ISO 9001:2015 lead auditor. I have continued my keen interest in running, taking part in a number of races across the North East with colleague Tom (I am currently beating him but he is gaining on me!) including a half-marathon. I have also developed a new hobby towards the end of this year: I took up amateur radio, passed the practical assessment and am working towards the foundation level theory examination. My favourite project of the year was for a London-based VIP chauffeur and concierge service — the obscure tenders we are asked to complete will never cease to amaze me, even after 7 years! I am extremely pleased with how the team is progressing and expanding, and am looking forward to a successful 2017.
Tom:
It has been an interesting year for me! My running went from strength to strength, as did my rivalry with Neil (a fellow runner, albeit much quicker!) I completed five races this year, including the Great North 5km run, and my first half-marathon, in which my personal bests improved each time. In respect of work training, I successfully passed a one-week ISO 9001:2015 Lead Auditor course in July, as well as the NEBOSH General Certificate in Occupational Health and Safety. NEBOSH was a two-week course with two exams and a practical assessment, and was very rewarding in respect of understanding health and safety and enhancing my knowledge levels. I get the results in February — wish me luck! The most interesting project I have worked on this year related to the preservation and restoration of historical buildings, combining traditional elements of a normal construction project with a focus on traditional materials and techniques.
Christian:
The doom and gloom of Newcastle United's premier league relegation, which will be my abiding memory of 2016, is being swiftly wiped away by the Rafalution, which continues apace. Sadly for me, last year also saw relegation for my cricket team, and with a batting average that can be counted using fingers (and thumbs!) I must take responsibility for this failure, and vow to do better in 2017. My two children (aged 13 and 10) have continued to outshine me by winning a variety of awards including Cub Scout of the Year, Under-11 Footballer of the Year, represented Newcastle Schools at athletics and were appointed as school netball team captain and head boy, respectively. Thankfully, my own appointment to the ranks of Executive Compass is proving similarly successful and I'm looking forward to a great year ahead.
 Matthew:
I am nearing the end of my third year with Executive Compass. 2016 has seen me continuing to oversee the writing team as it expanded to include two new writers, as well as maintaining my role as the team's subject lead for health and social care. Particularly interesting tenders have, however, come from across the spectrum of public services including cycling proficiency, political literacy, leadership in education and oral surgery. A particular highlight has been a successful tender for a long-term client, which has allowed them to pick up a lucrative, high-value contract and expand their care and support services to a new city. During the year, I have also delivered workshops at expositions and conferences throughout the UK, helping businesses both large and small to improve their approach to bidding, and have pursued my passion for environmental protection through completing an IRCA-certified ISO 14001:2015 Lead Auditor training course. Outside the world of work, I have maintained my love of design by establishing a clothing brand, and am currently working on a crochet pattern book.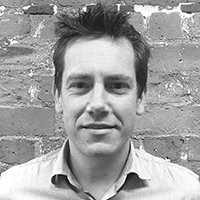 Stephen:
Brexit and Donald Trump aside, I certainly won't look back on 2016 as a year of boring predictability. On a personal note, it was a year bookended by relocating 250 miles to the North East and the arrival of daughter number two. And in between has been 12 months of learning the art (or should that be science) of Executive Compass' bid and tender writing process. It's a cliché to say that no two days in a job are ever the same but bid writing goes a long way to proving the point. As I'm discovering, each submission is different: different sector, different authority, different specification and different responses required. There have been plenty of memorable projects, ranging from railway maintenance to driver speed awareness training, and from legionella testing to translation services. If I had to choose a stand-out it would be one of the many domiciliary care projects: as a sector where regulation and competition are high, it brings out the innovative best in companies. Add into the mix an IRCA certified ISO 9001:2015 Lead Auditor training course to help clients with their own quality management systems, and it's been a memorable year.
Sam:
In my first full year with the company I have worked with a wide range of clients, including asbestos management, roofing, legal services and recruitment, to name a few. This has included working on submissions across all stages of the tendering process, with wins for clients on contracts with organisations such as London Procurement Partnership (NHS), various social housing associations, the Environment Agency and Efficiency East Midlands. I have also taken over the management of two of the company's most long-standing and highly regarded clients within the printing and commercial maintenance sectors, with regular submissions and contract wins throughout the year. In addition to achievements at work, I have also undertaken professional development training with the British Standards Institute and gained a lead auditor's certificate for the ISO 9001:2015 standard for quality management systems. Recently, a NEBOSH general certificate course has prepared me for my  upcoming exams in the subject which I am sitting early next year.
Charlotte:
This year Matthew and I spent a week in York undertaking the Lead Auditor course for ISO 14001:2015, which gave us an insight into the changes to the ISO standard for environmental management systems. This training course gave us a fresh, new insight into the framework our clients can use to implement and maintain an effective EMS. We are now well placed to use this knowledge to enhance future tender responses on environmental management. Some of the exciting projects I have worked on this year include a tender completed for one of our clients to win a recruitment advertising contract which was worth over £150 million! I have also worked on projects for a large number of local district councils throughout the whole of the UK for the care sector including outcome-based homecare services, enhanced homecare services, helping people live at home, and extra care support services.
Amy:
2016 has certainly been a busy year for Executive Compass! To assist with our sales and marketing efforts, Sarah has joined the team part-time and is proving a great asset. Our sales have been at an all-time high this year and we have maintained our repeat client base of 75%. The start of the year saw the implementation of our new website, which has been an on-going project for this year and one which has been particularly interesting and enjoyable. We have also expanded our services and this will continue throughout 2017. Outside work, I have managed to fit in a trip over the summer to America to travel across three different cities and I have taken up cooking as a new hobby — a bit more practice may be required for the coming year!
Back to 'Blogs'
Get In Touch
Call us now to speak to a member of our Bid Team:
0800 612 5563
Contact Us