Article Details
Published Date:
23-10-2020
Author:
Executive Compass
Earlier this year we launched our sister company, The Social Value Practice, and we are pleased to announce that we are now taking bookings for social value training.
Social value in tenders
We recently posted about the new social value model in procurement. As of January 2021, a minimum weighting of 10% for social value in a tender response will be applied to central government contracts. This is an increasingly common trend that we have seen over the past year or so, but the new model will make this mandatory for bidders to demonstrate the full extent of the social value that they will deliver. In practice, this means whatever the percentage weighting of quality in your tender (i.e. if it is 60% quality and 40% price), 10% of this quality weighting will be marked on social value responses.
The cabinet office recently published Procurement Policy Note 06/20 – taking account of social value in the award of central government contracts, to fully outline the new model's objectives.
If you regularly bid into the public sector, social value is a topic you must understand and be able to clearly demonstrate to an evaluator, considering the impact of your organisation and the wider environment. The change is very much in line with government objectives; to open up the playing field to SMEs, to focus on added value and to streamline initiatives.
What does The Social Value Practice do?
To support our clients regularly bidding for contracts, Executive Compass launched a sister company, The Social Value Practice.
Led by Neil Capstick and Dr Hugo Minney and utilising experienced social value practitioners across the UK, we provide a range of services which will allow you to create, monitor, measure and report your social value impact to comply with the new PPN and social value model.
The core service of The Social Value Practice is training.
The Social Value Practice Training – social value in tendering
Although the training can be tailored to suit any organisation's social value requirements, there are two main levels of training: L1 and L2.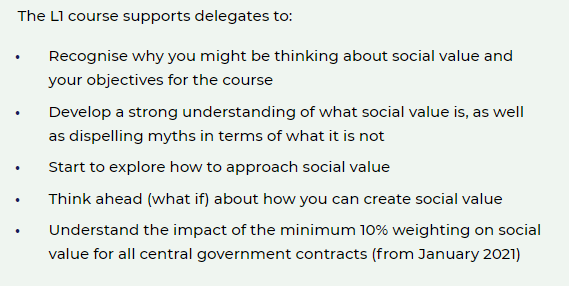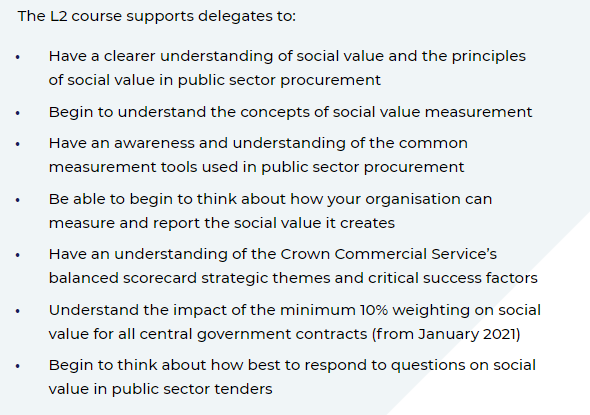 The training is currently being delivered online and will provide delegates full understanding of: What is social value? What are buyers looking for? How is social value delivered? And the next steps in your social value journey.
Contact us
To discuss how The Social Value Practice can support you, or to find out more information, please visit our dedicated site or contact us today.
Back to 'Blogs'
Get In Touch
Call us now to speak to a member of our Bid Team:
0800 612 5563
Contact Us