Article Details
Published Date:
11-05-2016
Author:
Executive Compass
The Department of Health guidance has confirmed that the social care sector will not receive the funding required to relieve the pressures the sector is currently facing.
The guidance has stated that councils will receive £138m revenue funding from the Better Care Fund 2016–2017, despite calls for bringing forward further funding. This is far from the £700m that the Local Government Association previously stated was needed to fully relieve the pressures.
As we discussed last month, the introduction of the National Living Wage alone was estimated to cost councils £330m in 2016–17 to cover the increased costs for home care and residential care contracts, and is just one of the financial pressures on councils. As Ray James, president of the Association of Directors of Adult Social Services said 'many services are at great risk over the next two years due to increasing demand, the welcome announcement of the national living wage and the need to find further savings.'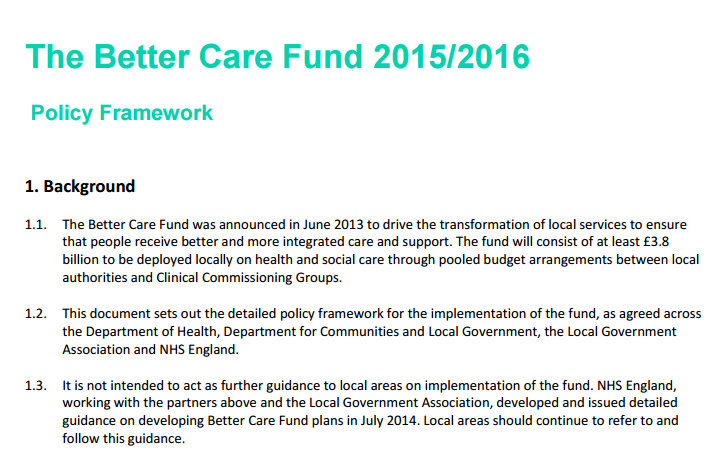 Department of Health, Better Care Fund: Policy Framework 
What does this mean for bidders and social care contracts?
Councils are under extreme pressure to make efficiency and other savings which are sufficient to compensate for the financial pressures. Unfortunately this will have a knock-on effect for health and social care suppliers.
Regulations and reforms from the introduction of the Care Act 2014 have already impacted the procurement process for care services. Even though there has been a general increase in contract opportunities, tenders have become challenging and highly competitive as contracting authorities must select the highest quality tender submission at the best price. It is not an option to accept a lower quality of care services, but the bid must be at a suitably low price in the current climate in order to be considered.
The decision not to bring forward more of the Better Care Funding will certainly impact bidders further in terms of their financial offerings in tender submissions, as councils will need to make savings and cut costs, unfortunately at the expense of care companies.
SMEs within the social care industry may be discouraged from bidding for certain health and social care contracts, as they themselves cannot afford to accept a lower price for services — especially whilst paying the National Living Wage for care staff. Larger social care companies may be able to afford to keep bidding for council contracts and accept a cut in revenue and profit; it is, however, uncertain whether firms will focus their effects elsewhere.
Care companies on the whole must review their current bidding practices, in terms of both quality of tender submissions and the price of services, in order to stay in the competition and secure further contracts. Without doing so, they are likely to be outbid for important frameworks and local council contracts, which generate much of their income.
Back to 'Blogs'
Get In Touch
Call us now to speak to a member of our Bid Team:
0800 612 5563
Contact Us