Article Details
Published Date:
13-09-2018
Author:
Executive Compass
It has been a particularly busy summer for contract notices, prior information notices (PINs), tender submissions and contract awards, with no signs of slowing down! It is important to know your current market and pipeline when it comes to contracts, so we provide an insight from Tussell to showcase what has been happening and what you can expect in 2019.
July and August have seen billions of pounds worth of tender opportunities for SMEs, which is expected to continue into September.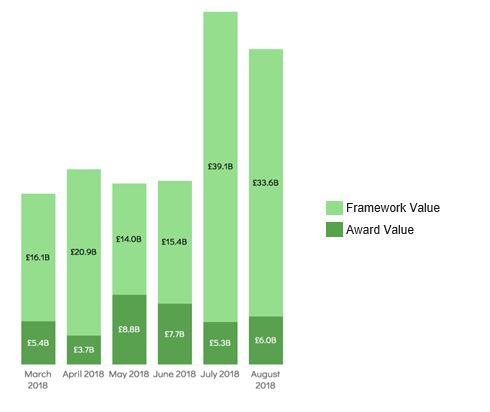 Tussell Limited
Future contract opportunities in 2019
Tussell published that there are over 1,100 frameworks expiring before the end of 2019. Whether you are looking to retain a contract, or bid for a new one, it is important to know the procurement timeline.
Keep up to date with contract end dates, prior information notices and supplier engagement events to ensure that you are prepared for when that important tender is released.
Do your research! Find out who is currently delivering the contract or on the framework and do your competitor research to see if there are any potential obstacles for your company, or areas where you can differentiate to offer a better solution.
Invest your time in the bid writing process. Your company may be a strong candidate for the contract, but if your bid submission does not reflect this, you will not be awarded the contract. Ensure your company can put forward a high-quality bid submission and on-point pricing.

Tussell Limited
Procurement life cycles
If it isn't your busy period in terms of tendering for contracts, what can you be doing? We know that some sectors and services are cyclical, and it may not be your busiest time for bidding. Whenever you have a lull in the year there are plenty of tasks you can be undertaking:
Take the time to reflect. Review your previous tender submissions and identify what worked, what didn't work so well, and where you can improve in future.
Prepare! An important contract is always around the corner, so, if you have time to breathe, try and prepare for the next contract. Whether this is researching, organising resource or planning, it will all help significantly in the future.
Check in with your contracts team. Find out how the existing contracts are progressing and how new contracts are mobilising. Knowing what is going on in different areas of the business can inform your bid team and bid writing for future projects.
Bid writing support
If you are planning on tendering for contracts in 2019, make sure you are prepared. Executive Compass provide bid-ready analysis through to writing support and reviews. Contact our team today to discuss how we can support you in the bidding process.
For an insight into procurement for your business and to keep up to date with all opportunities visit Tussell for a free trial or further information.
Back to 'Blogs'
Get In Touch
Call us now to speak to a member of our Bid Team:
0800 612 5563
Contact Us