Article Details
Published Date:
19-07-2023
With the first six months of the year firmly in our rearview mirror, 2023 has seen sustained growth and continued bid writing success for our clients.
Staff news and achievements
The year 2023 has brought exciting and important changes to the structure of our business. We take pride in offering continuous professional development to all staff, complete with bespoke pathways training delivered by Technical Director Matthew Walker. Highlights, achievements and staff progression include the following:
Lastly, our spring recruitment drive resulted in the appointment of three new bid writers, all of whom are progressing well and transitioning smoothly into the bid and tender writing industry. Learn more about Jemma, Ewan and Grace on our meet the team page.
Ethics, excellence and accountability
Since our inception in 2009, Executive Compass have adhered to these core values as part of our business model, organisational strategy and services provided to clients. Developed over 7,000 SQ and ITT submissions, clients soon appreciate our tailored approaches to tender writing and bid management, as evidenced by our ISO 9001:2015-certified quality management system, fully auditable 85% success rate and 75% repeat business.
We have delivered notable wins across a range of industries and sectors on behalf of our clients, including:
Offsite construction solutions – Crown Commercial Services
Asbestos management framework – Home Group
Repair, maintenance and associated services – Torus
Offroad surfacing – Sunderland City Council
Refit and refurbishment framework – Pagabo
Background extra care and support – Blackpool Council
Modern methods of construction – LHC Procurement Group
Domiciliary support services – Carmarthenshire Council
External and internal decorating – Optivo Housing Association
Database support framework – Historic England
Home care framework – Newcastle City Council
Plumbing consumables – APUC Scotland
Ceiling track hoists and stairlifts – Swindon Borough Council.
In addition to celebrating the 14th anniversary of our incorporation, May 2023 also saw us set a company record for monthly turnover, thanks to the tremendous efforts of our writers and reviewers, sales and marketing division and management team – each of whom have an important role to play and work tirelessly to deliver an exceptional service on each project.
Highlights of 2023 to date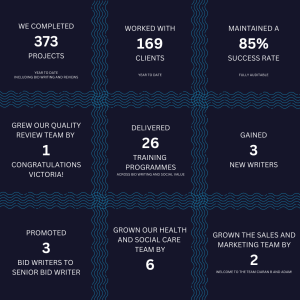 Social value, tender training and donations to local businesses
Clients have also benefited from our dedicated social value division, with Director of Social Value Stephen Kennett providing bespoke training to several firms so far this year, in addition to providing daily advice to our team of writers as they complete high-quality social value responses.
Matthew has continued to provide bespoke tender writing training services to organisations across the UK, helping them to upskill their in-house resource and improve their overall success rate. In partnership with NEPO, he has also delivered monthly bid writing workshops to support North East businesses in expanding their business and increasing revenue through public sector procurement.
Our founder, Neil Capstick, has also been involved in donating to a local North East business through our organisational Social Value Fund. In June, Neil awarded a grant to Greencroft Dog Day Care, a local business providing full-day dog care services for customers at work, the elderly and those with disabilities. Funding will be used to assist Greencroft's efforts to establish a shop on the premises, diversifying their business base and supporting their long-term stability.
What to expect for the rest of 2023
With so many successes and achievements to celebrate so far, July is shaping up to be another excellent month for the business, with numerous contract wins starting the month off on a high note. Currently, our writers are hard at work completing submissions for a range of industries, including construction, health and social care, gas servicing and maintenance, grounds maintenance and asbestos services.
Our management team are also preparing for an increase in holiday cover and bid review services to support clients whose internal resource are on annual leave during the summer holidays. This ensures our clients will be able to submit bespoke, high-quality bids across the calendar year, including business-critical and 'must win' tender submissions.
We are equally focused on achieving another record year for the company. With the expansion of our writing team, adherence to our core values of ethics, excellence and accountability, we are well positioned to meet and exceed our targets, supporting our long-term business strategy and organisational growth.
Supporting you with future bid and tender opportunities
We always strive to meet our clients' requirements, including supporting short-notice opportunities or those close to the deadline. However, high levels of demand for our services mean that we often require a quick 'bid/no-bid decision' to provide high-quality support and avoid potential conflicts of interest.
If you would like to learn more about the bid and tender services we provide or receive a bespoke, no-obligation quotation, please contact our sales and marketing team at 0800 612 5563 or email info@executivecompass.co.uk.
Back to 'Blogs'
Get In Touch
Call us now to speak to a member of our Bid Team:
0800 612 5563
Contact Us