Article Details
Published Date:
6-12-2022
2022 has proven to be a year filled with growth, development, and the continuous achievement of company milestones. Having celebrated our 13th year as a bid writing consultancy this year, Executive Compass (and the team) have enjoyed record sales, team growth/expansion, and some personal triumphs including a wedding and two babies.
Due to the ever-growing number and variety of tenders our writers are supporting with, and the quality management processes associated with this, time at Executive Compass moves quickly. It is normally only around the festive period that we have the time to take a breath, and truly consider and reflect on what has proven to be another exceptional year.
Reviewing our records, reflecting on the year that has been with our bid writers, and truly thinking about how far our team has come in 2022, we wanted to share just a few of our highlights: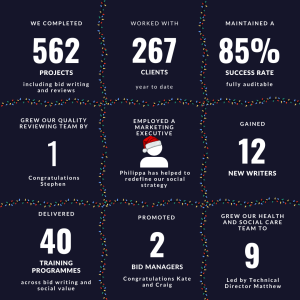 The statistics and quantities above offer just a snapshot into the day-to-day workings of Executive Compass. Peppered amongst the organisation's successes are team activities (such as summer events, afternoons at the pub, and Friday game shows), our highly effective graduate scheme, and ongoing relationships with clients, to name a few. The organisation has also seen restructuring in 2022 to enable staff to progress into different areas of the business; Stephen Murray has taken on the role of quality reviewer, supporting our ever-growing team of writers to maintain quality and ensure compliance in their bids. Similarly, Craig Sutch and Kate Hull have recently been promoted to lead our team of writers as bid managers. Craig will take over the role in December, with Kate moving into the role in April 2023 following her secondment as part of the Sales and Marketing team. Both with work alongside Director Christian Rowe in the coming months as part of their professional development.
What to expect in 2023
We are already looking ahead to 2023, with support for tender submissions due in January well underway. Following two highly successful recruitment drives in 2022 (resulting in 12 new writers being appointed), we also expect our bid writing team to further expand as demand for our services continue to rise – keep an eye out on our social media for information around our involvement and attendance at The UK Careers Fair in Newcastle.
What hasn't changed, is our proven bid management process (developed over 13 years ago) which has continued to be used time and time again to deliver high-quality tender submissions on time for new and existing clients alike.
From our team, we are wishing you a Merry Christmas and a Happy New Year in advance, and should you require any bid writing support over the festive period, please contact us now.
Back to 'Blogs'
Get In Touch
Call us now to speak to a member of our Bid Team:
0800 612 5563
Contact Us