Article Details
Published Date:
9-01-2019
Author:
Executive Compass
2019 is off to a good start as we are celebrating our ten-year anniversary. We have been featured in NE Times to mark our tenth year in business, to discuss how far the business has come, and our stand-out projects and plans for 2019.
Through the years
Managing Director Neil Capstick founded Executive Compass in 2009. In the early days, the company focused on completing PQQ documents as it was mandatory for bidders to undergo a two-stage tender process – a PQQ and then, if shortlisted, a tender document. Neil and one other associate had a handful of clients in sectors such as grounds maintenance, social care and catering – a few of which we still work with today! As it became more common to outsource bid writing and secure professional support, the company grew and gradually employed more bid writers to deal with demand in PQQs, tenders, reviews and training.
By 2014 the company had a team of five staff and were completing approximately 250 tender submissions per year, building up a reputable client base. By this time we had also been involved in a few large-scale bids, in both the UK and internationally, for contracts worth up to £6 billion. Quality became the real focus of the business, ensuring high success rates for clients and a professional service for all bid and tender submissions. The team continued to grow steadily in the coming years, and the office relocated three times, settling in Hoults Yard with a team of 14 staff for 2018.
The company has evolved with the public-sector procurement environment through the years, as we have seen the introduction of many procurement documents such as the standardised SQ, ESPD and PAS91. Bidding for contracts is a competitive process and Executive Compass ensures their knowledge is second-to-none to help clients secure important contracts and grow their businesses.
The majority of the core team have been with the company for over three years, and have been vital in Executive Compass' growth and success, with two members of staff being appointed as Directors. In 2018, General Manager, Matthew Walker, opened the first Glasgow office and there is also a strong presence in London and surrounding areas, ensuring the team continues our UK-wide coverage.
Plans for 2019
December 2018 saw three trainee bid writers join the team as we prepare for a record year. Activities are underway to celebrate the ten-year anniversary such as new videos, fundraising and events for Executive Compass' associates and clients.
Keep an eye out for more information coming soon!
Read the full article in NE Times.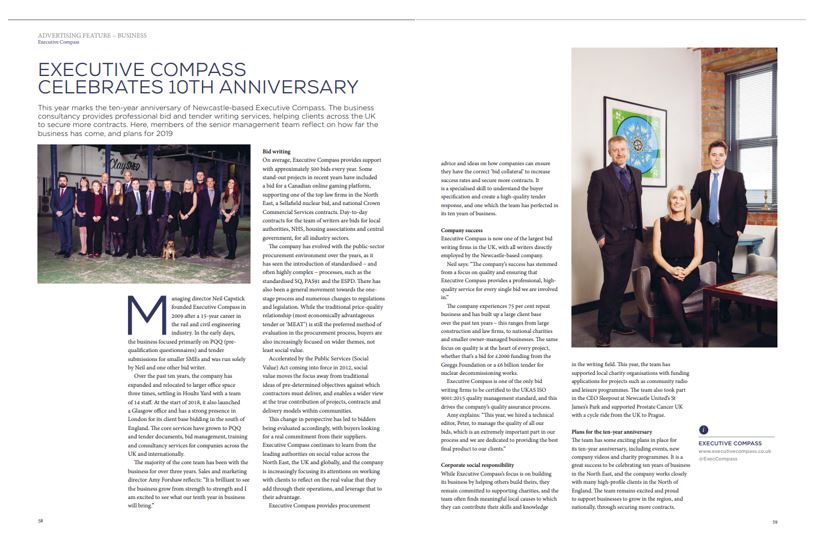 Back to 'Blogs'
Get In Touch
Call us now to speak to a member of our Bid Team:
0800 612 5563
Contact Us