Article Details
Published Date:
12-12-2018
Author:
Executive Compass
It has been a busy year in the Executive Compass office. It's one year on since we relocated to a larger office space to deal with expansion and new services, and we reflect on the past year and provide a summary of what has been happening.
New members of staff
We've had the pleasure of welcoming seven new members of staff to the Executive Compass team: Peter McBride, our technical editor, bid writers Mary and Paul, bid co-ordinator Callum, and three new trainee writers. The trainee writers have just joined the company this December and are currently learning the ropes behind the scenes – keep an eye out in the New Year to find out how they are getting on. The growth and expansion in the team has enabled us to keep up with growing demand for bid writing services, and has also helped us to launch the consultancy services and expand our training.
Alongside this we also opened our first Glasgow office in early 2018, headed up by General Manager Matthew Walker. So far this has been a great success and we have grown our Scottish presence and client base in the region.
450 bids completed
Our team of bid writers have completed a whopping 450 bids! This has ranged from domiciliary care contracts, to furniture fit-out, security contracts and new build construction. No two days are the same and we have been involved in some really interesting projects and had the opportunity to work with a diverse mix of clients and industry sectors. The consultancy side of the business has been extremely busy, working with a FTSE 250 firm to map their business processes and rationalise their processes across 350 sites. This has been an 8-month project so far, and will continue into 2019.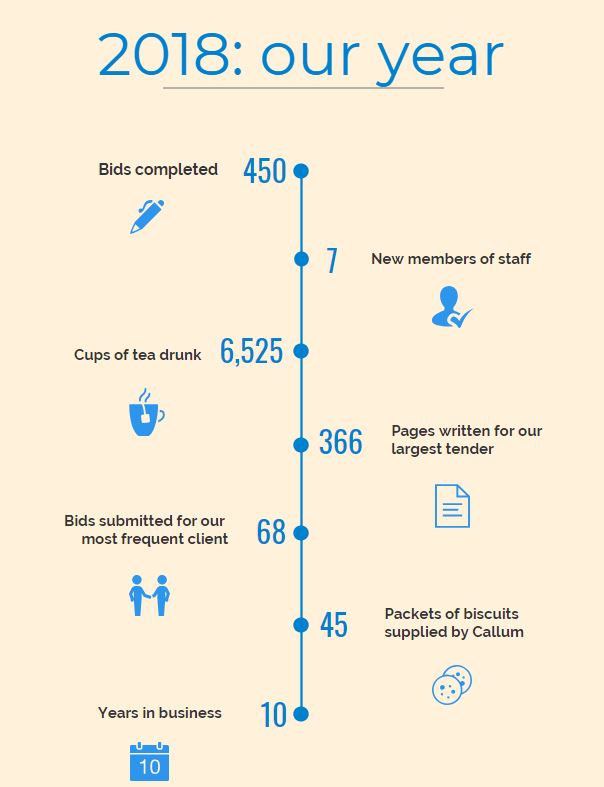 10 years in business
The start of 2019 will mark our 10th year trading! Keep an eye out for further information on our anniversary plans in the New Year, including new videos, events and more. We will also be featured in the NE Times professional services issue to reflect on our 10 years as bid and tender writers in the North East.
Tea and biscuits
Apparently the secret to success behind our writers and team is plenty of tea and biscuits – the fuel of Executive Compass, if you will. Bid co-ordinator Callum has kept us in good supply since he joined the company in June! As well as making their way through a lot of cups of tea, the team have had a lot of exciting news: we have one baby on the way, one engagement, one new grandchild, a charity cycle ride from the UK to Prague, one relocation to Glasgow, a roller derby British championships and a marathon completed!
Let's see what 2019 has in store.
Back to 'Blogs'
Get In Touch
Call us now to speak to a member of our Bid Team:
0800 612 5563
Contact Us