Article Details
Published Date:
5-12-2014
Author:
Executive Compass
Category:
Tender Writing & Bid Management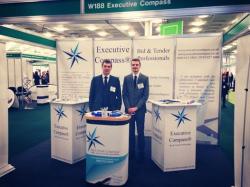 Earlier this year we exhibited at The Business Show 2014 at the London ExCel and following great success we exhibited again at the same event, which took place at Olympia London last Thursday and Friday.
25,000 visiting businesses and 350 exhibitors attended the two day business event, which is the largest exhibition for growing businesses in the UK. Three members of our team: Amy, John and Matthew, were on hand to meet the business visitors, chat and answer any questions regarding bids and tenders.
T10+
This year the exhibition was split into different sections: The Business Show 2014, Business Start Up, Going Global and T10+. Executive Compass was situated within the T10+ expo, which is designed for the most ambitious growing businesses in the UK. We welcomed the chance to promote Executive Compass at the exhibition, and talk bids and tenders with a diverse range of people. From domiciliary care companies to a niche construction business that tests wind tunnels (!), there was a whole host of organisations from across the UK and internationally, who all had different requirements when bidding for contracts. We were put to the test as the team were quizzed about issues relating to the type of bids we have completed in different industries, contract value in comparison to the size of tenders and how our company operates.
As well as firms exhibiting, the T10+ section of the event had a comprehensive range of seminars, workshops and networking opportunities.
Effective Bid Management Seminar
One of our bid writers, Matthew, delivered two seminars across the two days titled "The Importance of Effective Bid Management". The seminar covered the entire bid process from start to finish: identifying opportunities, the bid/no bid decision, maintaining a bid library, compiling evidence, tips for writing the response, and how to use feedback constructively and review your submission.
Matthew also explained some of the common problems we see our clients encounter; for example the importance of ensuring you are compliant throughout the process – a simple notion but one which can mean the difference between a pass and fail. This can be policies and procedures being out of date, missing appendices or not adhering to word counts; essentially anything that is a requirement within the specification that you have not fully addressed or met. Other aspects such as formatting, font spacing, layout and design are often overlooked, which again could lose you all important marks.
The seminar attracted both companies new to tendering and larger firms looking to improve their success rate and tendering process. Our proven bid techniques can be applied to businesses of any size and from any industry. Through improving your persuasive writing style and knowing exactly what the contracting authority is looking for you can score the most marks possible and add real value to your submission.
New Business
We had the pleasure of meeting firms from across the UK and internationally, including some exciting new business prospects for our team. It was interesting to chat to people with different tendering requirements and situations. Some of the situations we discussed included outsourcing bid management completely, giving assistance with bidding in the private sector, reviewing past submissions which were unsuccessful, and training overseas, as well as many more problems we were able to discuss and help businesses with.
As well as pursuing new business, we also met up with some of our existing clients which was a great opportunity to catch up. We hope they enjoyed the event!
Our team of experienced bid writers are always on hand to answer any questions or discuss any bidding requirements you may have. Call us today on 0800 612 5563 or fill out our contact form.
Back to 'Blogs'
Get In Touch
Call us now to speak to a member of our Bid Team:
0800 612 5563
Contact Us