Article Details
Published Date:
20-12-2017
Author:
Executive Compass
Category:
Tender Writing & Bid Management
2017 has been an extremely busy one for Executive Compass® – we take a look back at our achievements and projects over the past year to give you an insight in to what the team has been up to.
Expansion
Over the past year we have welcomed three new members of staff to the team: Rachael, Ryan and Sarah, and two new office dogs! Rachael is a bid writer and joined the team at the start of December; so far she has been working with our retained lift client and assisting on a large gas servicing contract. Ryan is a management consultant and has been helping to launch our new services in 2018 – keep your eyes peeled in January for the full launch! Sarah is our admin and marketing assistant and has been supporting Amy and Ryan with all tasks.
Duffy, a miniature Jack Russell cross and Sherlock, a Corgi, job share, with duties which include patrolling the office, eating treats and barking when we are on a telephone call to clients.
We have another new bid writer, Hannah, joining the team in January and we are moving to larger offices too.
Check out the full team's bios here to find out more and read how each member of the team is getting on.
Certifications
Two members of the bid writing team gained their NEBOSH certification. As a company we have achieved Cyber Essentials Plus and ISO 9001:2015 upgrade.
Success rates
We are proud to have maintained our success rates in 2017 and to have built up our repeat business to 75% of all sales.
Projects
We have assisted with over 400 SQ, PQQ, bid and tender documents over the past year. This equates to over 30 bids per month! Project values have varied from £80,000 to over £1 billion for a range of different clients. We have had the opportunity to be involved in some interesting projects. A few that stand out for the team are:
We helped five of our clients gain a place on the prestigious Fusion 21 Compliance and Facilities Management Framework
An Electrical and Engineering Framework consisted of a 30,000 word SQ
We worked with an online gaming platform company on a highly complex 1,200-page bid
Christian scored 97.92% for a domiciliary care client on an extremely competitive contract
Charlotte wrote an NHS bid for an innovative bladder scanner product
Matthew delivered 35 bespoke training sessions – one of which was to a prosthetic limbs company
Sam and Matthew helped a client to secure a multi-million-pound laundry contract
We assisted with a VIP concierge services contract for a London airport.
Team
We've had four team-building outings this year (amongst many Friday evenings in the pub!) and managed to achieve quite a bit outside the day job: Tom completed his first marathon, Charlotte passed her driving test, Sam bought his first house, Neil is awaiting another grandchild, Elliott has competed in Judo, Sarah survived her first roller derby league game, Stephen cycled the Dartmouth classic in July, and last but not least, Matthew was on Pointless (to be aired 2018)!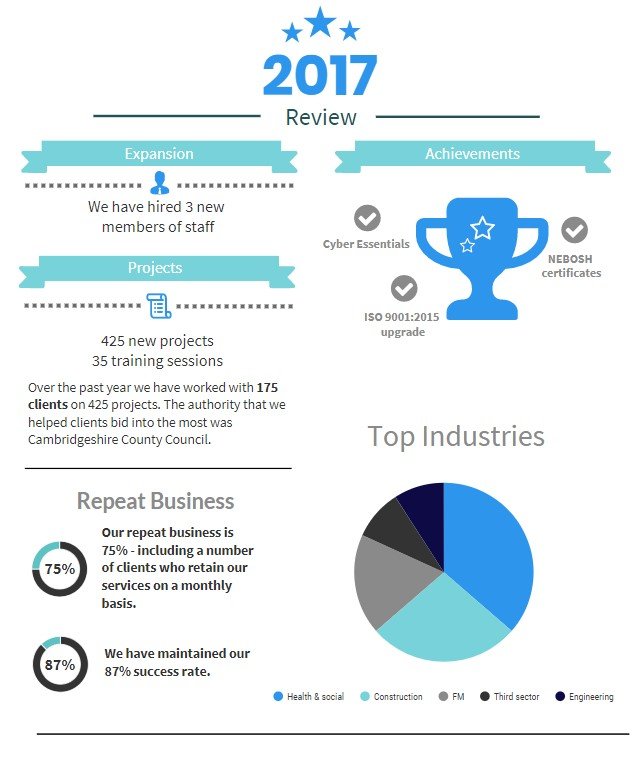 Back to 'Blogs'
Get In Touch
Call us now to speak to a member of our Bid Team:
0800 612 5563
Contact Us