Article Details
Published Date:
10-12-2021
Author:
Executive Compass
As we near the end of 2021, we reflect on what we have accomplished. We celebrated our 12th year in business this year, had record sales, and progressively expanded to meet sustained demand for all our services.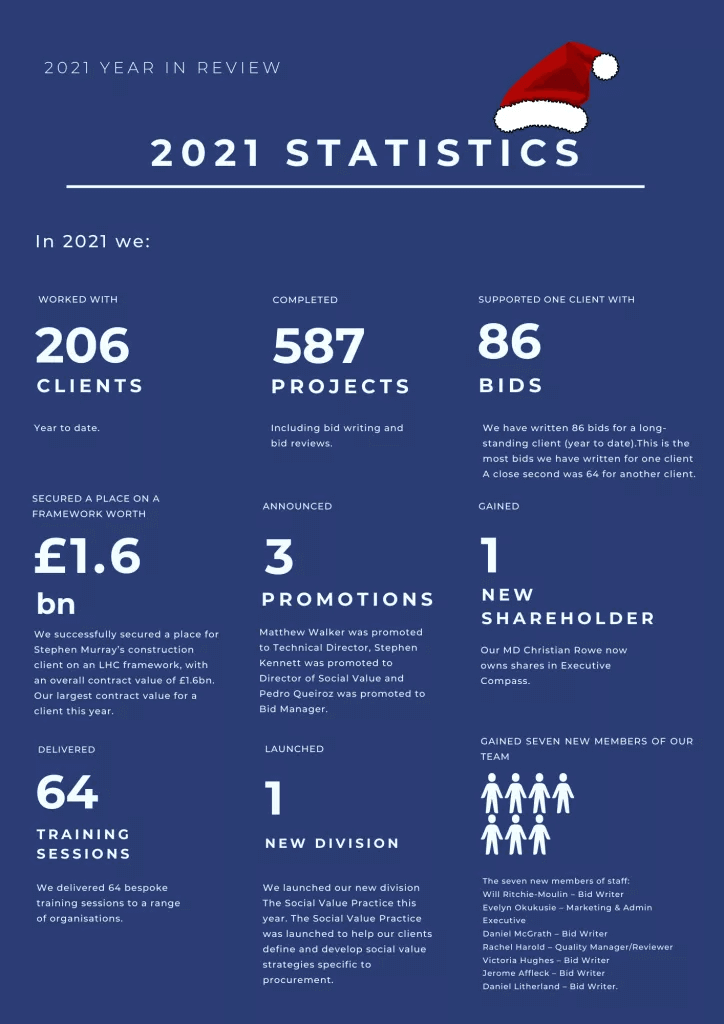 2021 statistics
Promoted three members of staff. Matthew Walker was promoted to Technical Director, Stephen Kennett was promoted to Director of Social Value and Pedro Queiroz was promoted to Bid Manager
Gained 1 new shareholder – Our MD Christian Rowe now owns shares in Executive Compass
We launched our new division The Social Value Practice this year. The Social Value Practice was launched to help our clients define and develop social value strategies specific to procurement
Worked with 206 clients (YTD) across a range of industries
Completed 587 projects (YTD) including bid writing and bid reviews
Delivered 64 bespoke training sessions to a range of organisations
The most bids written for one client is 86 bids (YTD). A close second was 64 for another client

We successfully secured a place for Stephen Murray's construction client on an LHC framework, with an overall contract value of £1.6bn. Our largest contract value for a client this year.

Grew our team by seven members of staff: Will Ritchie-Moulin – Bid Writer, Evelyn Okukusie – Marketing & Admin Executive, Daniel McGrath – Bid Writer, Rachel Harold – Quality Manager/Reviewer, Victoria Hughes – Bid Writer, Jerome Affleck – Bid Writer and Daniel Litherland – Bid Writer.
 What to expect in 2022:
We are now recruiting to expand our bid writing team as demand for our services continues to rise
We are undergoing a rebrand and will be introducing a new website and logo in the coming weeks
As you may have seen we have a new division – The Social Value Practice. In the new year we will officially debut the new division, with a new set of services to support both existing and new clients in their social value efforts when bidding for contracts. Keep an eye out for more updates and news.
We've had a fantastic year. We are wishing you a Merry Christmas and a Happy New Year in advance.
Back to 'Blogs'
Get In Touch
Call us now to speak to a member of our Bid Team:
0800 612 5563
Contact Us